Mattel Aquarius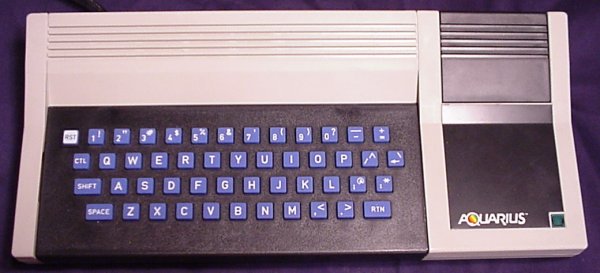 ---
Donor: (Looking it up...)
Location: Williamsburg, Virginia
---
For ages, I have owned a mutilated Aquarius. Someone had cut the power cable. It was useless. But now a full-featured Aquarius system has been donated to the Museum. It's tempting to look at something from Mattel as being just a toy. By itself, the main unit does indeed look like a toy, what with its blue rubber keys and white plastic body. But you would be missing the cool little printer. And the funky cartridge port, suitable for both program carts as well as memory expansion. And while the rubber keys are not fun on which to type, they do allow room for custom templates to fit over the keyboard, depending on the current task.
---
---
Most Recent Comments for the Mattel Aquarius:
No comments yet submitted
---
Click here to view all comments for the Mattel Aquarius and to leave your own.
Click here to view comments about other Mattel computers.
---
Send comments to here! (Note the new address. Lots of space to hold photos sent my way.)
---

Back to the Museum!
---