IBM 3275 Display Station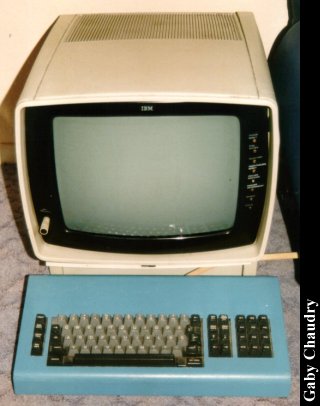 ---
Owner: Gaby Chaudry
Location: Cologne, Germany
---
The best hardware is always the heaviest! Gaby tells us more:
If you're looking for a terminal that nobody will ever be able to steal, take this one! Let me quote from the manual:
Danger! The 3275 Display Station weighs about 95 pounds without keyboard. Two men are required to remove the unit from the shipping carton.
It was built in 1974 and was used as a standalone terminal connected to the mainframe (the 3271/72) by an external 1200 bps-modem. Now it serves as a table in my living room :-)
---
---
Most Recent Comments for the IBM 3275 Display Station:
No comments yet submitted
---
Click here to view all comments for the IBM 3275 Display Station and to leave your own.
Click here to view comments about other IBM computers.
---
Send comments to here! (Note the new address. Lots of space to hold photos sent my way.)
---

Back to the Museum!
---