IBM XT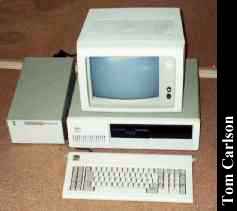 ---
Donor: Brian Ostrom and Maureen Mucha
Location: Williamsburg, VA
---
Not the original IBM PC, but the next best thing. This XT has 512K RAM. The goodly sized box on its left is a 20 meg hard drive. The monitor is wonderfully sharp! An oldie but a goodie! The original owners had this to say:
We bought the XT in 1982 or 1983, our first PC, an upgrade from a dumb terminal that we used for word processing -- we did that by connecting to a STAR minicomputer in downtown Lansing via an $1200 1200 baud modem (which was bigger than the 20 meg hard drive on the XT).

Along with the XT, we bought one of the worst Okidata printers and a brand new word processing program, which the salesman confidently told us was "destined to be the best" -- Wordperfect! Probably one of the few times in our lives we made the best choice!
---
For more information on this relic, including current uses, check out the CLONES page.
---
Most Recent Comments for the IBM XT PC:
No comments yet submitted
---
Click here to view all comments for the IBM XT PC and to leave your own.
Click here to view comments about other IBM computers.
---
Send comments to here! (Note the new address. Lots of space to hold photos sent my way.)
---

Back to the Museum!
---