Macintosh 512ke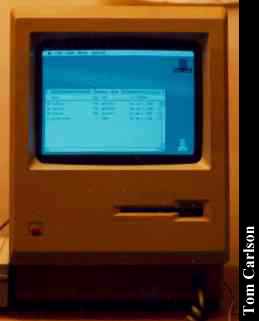 ---
Donor: Mary Jo "Kriss" Winchester
Location: Williamsburg, VA
---
After hundreds of complaints (4) from Mac users that the Macintosh SE wasn't obsolete enough, we finally have an older Mac in the Museum. In addition, I finally have one at home. (It was donated by my former co-worker Mary Jo "Kriss" Winchester, who insisted that I mention her by name as part of the deal!) This particular model is the enhanced model, with 800k double-sided drives, instead of the original 400k single sided ones. The external drive in the picture actually belongs to the Macintosh SE. It also has a signed case. The frightening thing about this system is how good the Mac OS is, so early in the game. The entire OS fits in around 250k of disk space, and the whole system boots from power-up in less than 13 seconds. The external drive, eliminates disk swapping, making it a pretty usable little system. I just have one question: Where are the cursor keys? Do I really have to use the mouse just to move up a line or over a few characters? At least there's an optional number pad.
Fellow Mac 512K owner Bob Bacus adds:
This computer is the second produced in the Macintosh line. It addresses the complaints of those who bought the original Mac that it didn't have enough memory (it had 128k). This model has 512k, and mine in particular has been upgraded to 1Meg. It has one 800k 3.5" floppy drive, and no hard drive. This design means that running a program that is not on the system disk requires several swappings of floppy disks. Needless to say, all my disks are system disks, so swapping is minimized. From the picture I think you can see that it still functions, although very little Mac software will run successfully on it. Apple decided to give this machine an 'advanced' serial port (actually two of them), thus assuring it cannot speak to any RS-232 device. Mostly it gets used to play card games.
---
---
Most Recent Comments for the Apple Macintosh 512K:
No comments yet submitted
---
Click here to view all comments for the Apple Macintosh 512K and to leave your own.
Click here to view comments about other Apple computers.
---
Send comments to here! (Note the new address. Lots of space to hold photos sent my way.)
---

Back to the Museum!
---