Digital MicroVax 3300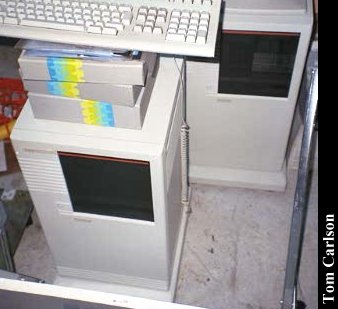 ---
Owner: Tom Carlson
Location: Williamsburg, VA
---
Ah, the American dream! House in the suburbs, beautiful spouse, 2.5 children, and a MicroVax in the garage. Well, I don't have the kids, but I do have the MicroVax. (And, yes, it's in the garage.) Those of you who have offered me large-scale equipment, only to have me say that I stick to little computers may be scratching your heads. Why do I have this?
Well, my employer was re-modeling the basement and they were going to throw it out! Look at it! Would you let them just toss it! I think not. (And to think, they kept the AS/400! What were they thinking?) So I somehow wedged both towers into my Volkswagen and went to pick up my wife at her work. I could tell you what she said, but I like schools to be able to link to here.
---
---
Most Recent Comments for the DEC MicroVax:
No comments yet submitted
---
Click here to view all comments for the DEC MicroVax and to leave your own.
Click here to view comments about other DEC computers.
---
Send comments to here! (Note the new address. Lots of space to hold photos sent my way.)
---

Back to the Museum!
---