NCR Decision Mate V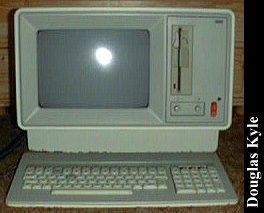 ---
Owner: Douglas Kyle
Location: Scotland
---
Yet another CP/M machine. Unlike most, this one has only one drive. Douglas fills us in:
One of my small collection is an NCR computer acquired some time ago and I thought that it might be of interest for inclusion. It is apparently a model called 'Decision Mate V' which I think runs on a Z80 processor and seems to be 64K. It came with one CP/M operating system disk but has no hard disk drive (Winchester drive seems to have been an option). I can't find much reference to it anywhere, there doesn't seem to be many in the UK.
If you have any info, feel free to contact Douglas.
---
Most Recent Comments for the NCR Decision Mate V:
No comments yet submitted
---
Click here to view all comments for the NCR Decision Mate V and to leave your own.
Click here to view comments about other NCR computers.
---
Send comments to here! (Note the new address. Lots of space to hold photos sent my way.)
---

Back to the Museum!
---