Epson QX-16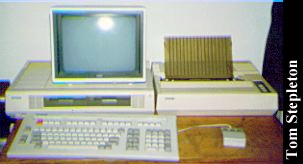 ---
Owner: T. Stepleton
Location: St. Louis, MO
---
I love these hybrid machines. Anyone who watched Triumph of the Nerds on PBS saw how Digital Research basically threw away the chance to have CP/M be the operating system for the IBM PC. Here's the owner's description:
In the uneasy times between CP/M and DOS, there were several machines meant for those wanting the best of both worlds. This was one of them. In 1984/5, the Epson QX-16 featured both a Z80 and an 8088, 512k of RAM, and built-in CGA video for a green-screen monitor whose phosphor glowed long after the power was off. It had a keyboard modeled after the Televideo 920 terminal and supported identical screen control codes. The keyboard is also easily the most intuitive I've ever used; it has keys with labels such as "Bold", "Mail", "Print", not to mention the big red "Stop" on the left. It also came with an Epson FX-85 printer and an extremely clicky Logitech mouse, not to mention gobs of software and even an honors thesis (previous owner was a med student). Runs CP/M-80 2.2.
Other Z80 / 8086 hybrids include the DEC Rainbow.
---
Most Recent Comments for the Epson QX-16:
No comments yet submitted
---
Click here to view all comments for the Epson QX-16 and to leave your own.
Click here to view comments about other Epson computers.
---
Send comments to here! (Note the new address. Lots of space to hold photos sent my way.)
---

Back to the Museum!
---