SIIG S286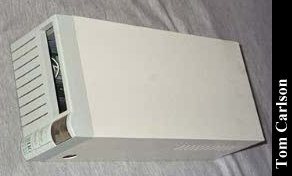 ---
Owner: Tom Carlson
Location: Williamsburg, VA
---
What the hell is a SIIG S286? Don't these people make bad SCSI cards? Well, now they do, but they once produced a cool little 286-based PC. Computationally, it's just your standard 286. What make it so cool is its form factor.
It's stuffed into a little case about 5" wide, 4" tall, and 10" long. Inside, there's a motherboard on the bottom. It has on-board VGA graphics as well as a game port. The printer port hangs off here as well. There's also a composite video output. One edge has two 30-pin SIMM slots, the other edge has a 16-bit ISA card slot, but it's not for a normal card. Instead, a riser card fits into there. Halfway up the riser is a real 16-bit ISA slot. Any card inserted here would hover horizontally in the middle of the case. Across the top of the case is another little motherboard, containing 2 serial ports and a connector for an external floppy drive. This board has an 8-bit ISA slot, which plugs onto the top of the riser card. So all these card kinda wrap around the interior. But that's not all. There's also a bay for a floppy drive just below the top board, and a hard drive bay just above the bottom board. It's not clear whether a full length ISA card would fit between the two drives. Probably not, but how many full length cards do you really use? (I know, lots. Me too.)
In any case, there's an awful lot of stuff stuffed into this case. Wouldn't it make a great little dial-up terminal? Hook it to your TV and get your e-mail? Play Wolfenstein 3D?
Does it actually work? Beats me, because I don't have a power supply for it.
Here's what the power jack looks like:

It's kinda a 5-pin DIN, but with the pins arranged like a 6-pin DIN without the center pin. I haven't been able to find anything to plug into it. Plus, there isn't a clear indication inside of which pin gets what voltage. (Now, it just so happens that I have 3 of these. If you happen to have a couple power supplies for them, I think we could arrange a trade.)
So I can't get it running, but it sure is cool.
---
---
Most Recent Comments for the SIIG MiniSys S286:
No comments yet submitted
---
Click here to view all comments for the SIIG MiniSys S286 and to leave your own.
Click here to view comments about other SIIG computers.
---
Send comments to here! (Note the new address. Lots of space to hold photos sent my way.)
---

Back to the Museum!
---