Wang Field Service Terminal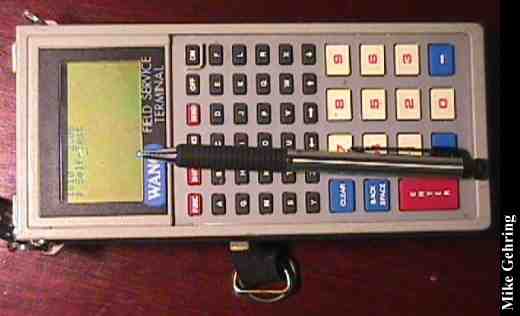 ---
Owner: Mike Gehring
Location: Ontario, Canada
---
Mike has a cool toy! Let him know if you have any info about it. Here's what he has to say:
I picked this up at a local Surplus store, and am very happy with it. I am looking for the manual for this, or any info someone may have on its operation, specifically the rs232 (Want to Interface with PC).
It has the following I/O methods:
1 RS-232 Port
1 RJ-11 Port for modem
1 Acoutic Coupler Modem
1 Bar Code Port (RJ-45)
Also:
51 Keys
Backlit Screen
128K Ram
Has EEPROM socket, probably for extra memory or OS additions.
Works Great!
---
Most Recent Comments for the Wang Field Service Terminal:
No comments yet submitted
---
Click here to view all comments for the Wang Field Service Terminal and to leave your own.
Click here to view comments about other Wang computers.
---
Send comments to here! (Note the new address. Lots of space to hold photos sent my way.)
---

Back to the Museum!
---