Altair 8800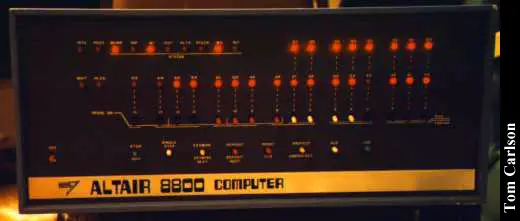 ---
Donor: Don Miller
Location: Williamsburg, VA
---
Due to the saint-level kindness of Don Miller, the Museum now physically contains an Altair 8800. As near as I can tell, it seems to work. The A3 LED isn't working, but everything else seems to flash appropriately.
---
The tricked out Altair below belongs to Max Lockwood and has a real keyboard, monitor, printer, and paper tape reader. It still works. Max and his son, James, left a simple program running on it for days. According to Max:
"our Altair is still using the original processing board and two of the original memory boards. Working around the poor design of the Altair and creating modifications to upgrade it to the present level of operation required a lot of work."
---
Pictures of the Lockwoods' Altair:
---
---
Most Recent Comments for the MITS Altair 8800:
No comments yet submitted
---
Click here to view all comments for the MITS Altair 8800 and to leave your own.
Click here to view comments about other MITS computers.
---
Send comments to here! (Note the new address. Lots of space to hold photos sent my way.)
---

Back to the Museum!
---