NeXTstation Color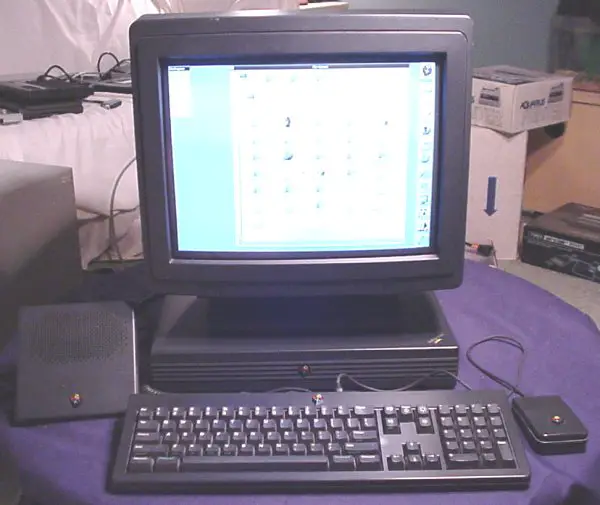 ---
Donor: (Looking it up...)
Location: Williamsburg, Virginia
---
Not a NeXT Cube, but the NeXT best thing. The NeXTstation provides features and functionality that other computers are just providing today. Once upon a time, Steve Jobs left Apple to make a NeXT generation operating system. (Then he later returned to Apple after Be's Jean Louis G. ticked off Apple. Jean Louis thought Apple had no choice but to buy Be as the basis of their next OS, but instead they bought NEXTSTEP. And now Be is dead.)
These boxes run NEXTSTEP, which a full object-oriented OS. It has UNIX as a base and provides a gorgeous graphical interface. Sound like OS X? NEXTSTEP has the best looking folder icons in existence. They look like little leather portfolios, with little cords binding them shut. NEXTSTEP was also available for other platforms. Others are working on NEXTSTEPish interfaces for Linux.
Hardware-wise, these boxes were great, but frankly couldn't quite deliver everything asked of them by the OS. They tend to run a little slow. But they have great digital sound and full color displays.
---
---
Most Recent Comments for the NeXT NeXTstation Color:
No comments yet submitted
---
Click here to view all comments for the NeXT NeXTstation Color and to leave your own.
Click here to view comments about other NeXT computers.
---
Send comments to here! (Note the new address. Lots of space to hold photos sent my way.)
---

Back to the Museum!
---