Wang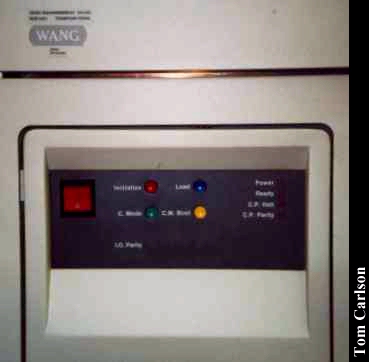 ---
Owner: T.Carlson
Location: Williamsburg, VA
---
This Wang served as the database system for a business since 1984. (They also used it for word processing way back then.) The main processor unit measures approximately 2 1/2 feet wide, 2 1/2 feet deep, and 3 feet tall. The disk units are a little smaller, only 2 feet wide. Each unit holds one disk pack, with each disk pack holding 300 megs. So, all together, the four disk units provided a total of 1.2 gigabytes of storage space. The system communicated with the outside world through a monsterous 2400 baud modem.
---
What do you do with an old disk pack? You make a clock out of it!
---
---
Most Recent Comments for the Wang Big Old:
No comments yet submitted
---
Click here to view all comments for the Wang Big Old and to leave your own.
Click here to view comments about other Wang computers.
---
Send comments to here! (Note the new address. Lots of space to hold photos sent my way.)
---

Back to the Museum!
---